---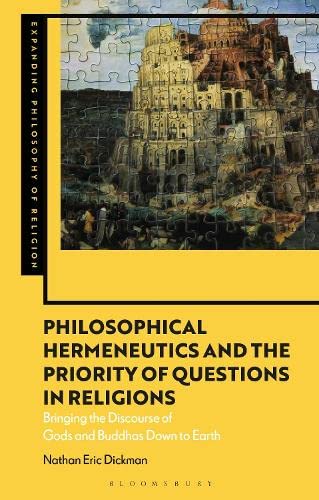 Book
Philosophical hermeneutics and the priority of questions in religions : bringing the discourse of gods and buddhas down to earth
Copies
1 Total copies,
1
Copies are in
,
0
Copies are out
.
"Buddhas, gods, prophets and oracles are often depicted as asking questions. But what are we to understand when Jesus asks "Who do you say that I am?", or Mazu, the Classical Zen master asks, "Why do you seek outside?" Is their questioning a power or weakness? Is it something human beings are only capable of due to our finitude? Is there any kind of question that is a power? Focusing on three case studies of questions in divine discourse on the level of story - the god depicted in the Jewish Bible, the master Mazu in his recorded sayings literature, and Jesus as he is depicted in canonized Christian Gospels - Nathan Eric Dickman meditates on human responses to divine questions. He considers the purpose of interreligious dialogue and the provocative kind of questions that seem to purposefully decenter us, drawing on methods from confessionally-oriented hermeneutics and skills from critical thinking. He allows us to see alternative ways of interpreting religious texts through approaches that look beyond reading a text for the improvement of our own religion or for access to some metaphysically transcendent reality. This is the first step in a phenomenology of religions that is inclusive, diverse, relevant and grounded in the world we live in"-- Provided by publisher.
Title
Philosophical hermeneutics and the priority of questions in religions : bringing the discourse of gods and buddhas down to earth
Published
London : Bloomsbury Academic, 2022.
Publication Desc
x, 207 pages ;